03 février 2010



Ven descubrir fotos, comentarios y hacer parte de los amigos de Campo Santy en Facebook !!!
Go to descover pictures, coments and to be friends with Campo Santy in Facebook !!!
26 janvier 2010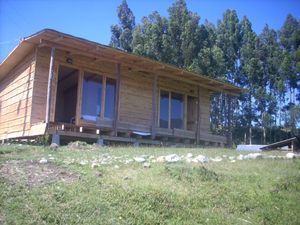 Recién Campo Santy termino nuevas cabañas para recibirlos.
No duden un segundo y reserva tus vacaciones : ven a disfrutar de la belleza austral chilena!
Just Santy Field I finish new cabins to receive.
Do not doubt them a second and reserves your vacations : they see enjoy the Chilean austral beauty!


30 novembre 2008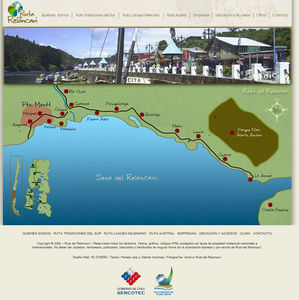 CampoSanty celebró el lanzamiento de la Ruta del Reloncavi
CampoSanty a célébré le lancement de la Route de Reloncavi
CampoSanty celebrated the beginning of the Reloncavi road
16 octobre 2008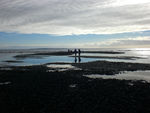 Para aquellos que necesitan una pausa en la agotadora vida de las grandes ciudades del mundo, nace Campo Santy Bed & Breakfast, una invitación al verdadero descanso a turistas nacionales y extranjeros permitiendo vivir y conocer la vida del campo en toda su originalidad junto a la sencillez y calidez de nuestra gente permitiéndoles participar en las labores domesticas o actividades de conexión con la naturaleza como trekking, pesca con mosca, paseo a caballos, o simplemente estar todo el día relajado sobre una hamaca observando los paisajes que nuestra naturaleza nos entrega. Ubicados en el pueblito de Lenca, Carretera Austral, sur de Chile y el mundo, lugar de singular belleza de nuestro planeta.

Campo Santy esta vinculados, además, a las distintas redes de turismo aventura y rural que existen en la zona permitiéndonos cubrir todas las necesidades y requerimientos que cada individuo pueda solicitar.

Destacamos la herencia cultural de la zona, permitiéndonos dar a conocer no solo lugares, si no también, cultura, eventos sociales como fiestas costumbristas, dar a conocer estilos de vida autóctonos y de inmigrantes de siglo antepasado con su influencia en nuestro país.
For those ones who need a break in the exhausting life of the big cities in the world, now is Campo Santy Bed & Breakfast here. We want to invite to a relaxing time for all the tourists from all over the world.
We want to let them live and know the country life in all its originality, next to the warmness and simplicity of our people, let them participate in the domestic works and nature connected activities, like trekking, fishing with fly, horse riding or just lying in the hamaca and watch nature`s views.
Placed in the world`s south at the little town of Lenca, Carretera Austral, Chile, one of the unique beauties of our planet.
Campo Santy is also connected to the different adventure tourism`s nets of the zone, letting us cover all the necessities and requirements that everyone could have.
We remark the cultural heritage of the zone, letting us to show not just places, but also culture and social events like folk parties and shows.
15 octobre 2008
Campo Santy est un Gîte rural où Santy et Ferdinand vous accueille chaleureusement dans leur chalet au milieu de la nature chilienne tout au long de l'année. Campo Santy es un Campo rural dondé Santy y Fernando le reciban con mucho carino en su casa de madera al medio de la naturaleza, todo el año. Campo Santy is a farm where you`re welcome in Santy`s and Fernando`s place.
Campo Santy dispose de 5 chambres avec 2 lits. Campo Santy tiene 5 piezas con 2 camas. Campo Santy has 5 rooms with 2 beds each.

A 40 minutes de Puerto Montt, vous vous retrouverez face à la mer et aux pieds de La Cordillère des Andes. A 40 minutas de Puerto Montt, estan frente al mar y abajo de los Andes. 40 minutes from Puerto Montt,in front of the sea and down of the Andes.
Vous pourrez ainsi participez à la vie du gîte, découvrir ses environs ou tout simplement faire une escale. Pueden asi participar a la vida del campo, descubrir los lugares alrededor o simplemente hacer una escala. So you can live the country life,dIscover the places around it or just doing a stop on your way.
Très bien situé, Campo Santy est à 10 min de la mer, 5 min d'une rivière, 15 min du ferry partant pour la patagonie, les glaciers ou Chiloé. Campo Santy esta a 10 min del mar, 5 min de un rio, 15 min del barco para ir al la patagonia, los glaciares o Chiloe. Campo Santy is placed 10 minutes from the sea,5 minutes from a river,15 minutes from the ship that goes to Patagonia,the glaciers or Chiloe.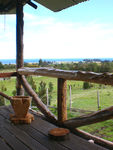 Activités - Actividades - Activity :
. Randonnées dans le parc national (cascades et thermales) - Caminar en el parque nacional (cascada y termales) - To walk in the national park (falls and hot springs)
. Pêche en mer ou en rivière - Pescar en el mar o en el rio - Fishing in the sea or the river.
. Balade à cheval - Andar en caballo - Riding horse.
. Ski o trecking sur le volcan d'Osorno - Eskiar o trecking en el volcano Orsono - Skiing or trecking at Osorno`s vulcano.
. Balade en bateau - Andar en barco - Sail in ships.
. Ramasser des coquillages - Marescar - To get seafood.
N'hésitez pas à nous contacter - Contactarnos - Contact
Cel: (09) 8 987 1194 - (09) 9 232 3827 - (09) 9 615 3672